Asparohovo I Varnaflats.eu (One-Bedroom Apartment)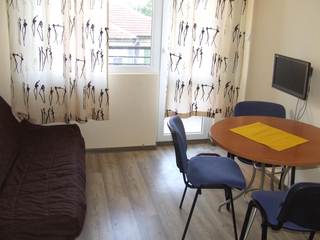 Description  
        Rent this one-bedroom apartment in Varna if you want to relax both mentally and physically.  It is located within 5 minutes walking distance of Asparuhov's golden sandy beach and Dzhanavary forest.   The apartment is equipped with everything you need for cooking, sleeping and leisure. Our apartment will give you the opportunity to relax in a cozy home-like atmosphere rather than customize your rhythm of life with the schedule of some hotel.  
      The apartment is located on the 3-rd floor of a five-storied building in the Asparuhovo district (built in 2006) : 

         There is a bedroom (2 beds with orthopedic mattresses on wooden frames),a kitchen (with a dining table, a fold out couch, utensils for cooking, cutlery and crockery), a living room, a bathroom (with shower) and a toilet.  .
       The apartment is well-equipped. There is a microwave, an air conditioner, a fridge, a washing machine and a TV with more than 140 cable channels, free Wi-Fi. 
         The apartment is walking distance from a car park, supermarkets, a market with fresh fruits and vegetables, meat shops, stores, a shopping center, bus stops, the brewery \"Gallagher\" (the only brewery with "live" beer in Varna).  The apartment is ideal for a group of 2 to 5 people.
          The price depends on the season and duration of rent and ranges from 15 to 25 euros per apartment per day. You can find the exact price and reservations schedule at the beginning of this page. 
The apartment is suitable for a summer vacation with kids, weekend with friends or just a holiday on your own to restore strength. Fresh sea breeze, birds' songs, warm water and numerous restaurants nearby – isn't it a perfect place for you?  
       Helpful and attentive staff, wonderful conditions of rent, reasonable price and freedom: chance to go shopping to markets and stores, exercise or go to the playground with swings – you will get it all if renting an apartment in Varna, Bulgaria on our website.   


         Feel the charm of the famous Bulgarian resort and relax as much as you want not cutting down the days of vacation in the spacious and stylish accommodation for the affordable rental price!  
Calendar of rooms' availability.
  (Blocked date = room is booked)  
MAP
 ADDRESS
9003, Bulgaria, city of Varna, 21, Cyril and Methodius Str.
tel. +359 89 649 55 02
Skype – varnaflats.eu
Opening hours 6:00 – 22:00
Rental Property 
CERTIFICATE